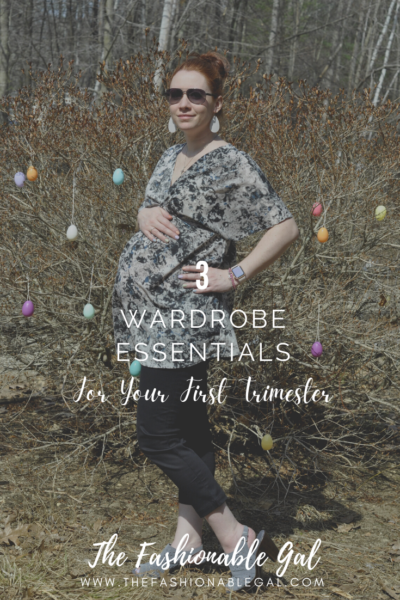 Let's get down to business. You've got a lot to do getting ready for the new addition to your life, and you probably don't want to spend a lot of time planning what you're going to wear for the next nine months. Ideally, the clothes you pick up will look great no matter where you are in the pregnancy. In other words, clothes that adjust or expand with you as you go are best. Here are some of our recommendations.
Tops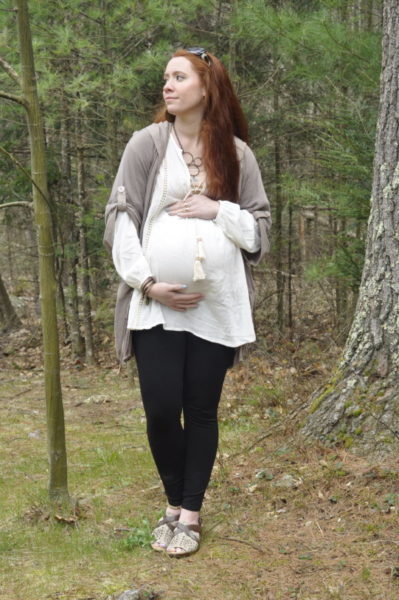 There are plenty of adorable maternity tops out there for you to choose from, but don't feel limited. Back in the day, meaning your grandmother's time, the ads promoted maternity camouflage. Whatever you wore was to hide your condition as much as possible. You still had to be "stylishly slim."
Today we tend to wear form-fitting t-shirts and tops. Basically, what we wear now anyway. We show off our bellies. So a basic stretchy top will be a staple of your wardrobe. In the first trimester, sometimes you can make do with what you already have.
But if looser just sounds more comfortable, this lovely peplum top may be your new ideal. And if you love it, this top comes in a lot of colors. We mean A LOT a lot.
Bottoms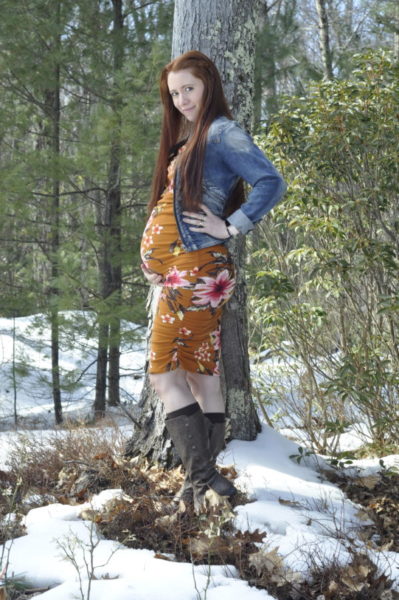 First of all, leggings. Soft and stretchy ones with room for an expanding belly are an absolute must. Check out these leggings from Motherhood Maternity that grow with you from when your baby is as small as a grain of rice to more cantaloupe size. These beauties feature the company's patented Secret Fit Belly that "can be pulled over your bump or folded just below it. Supportive all pregnancy long and into motherhood." The reviews from happy customers claim the fabric is thick enough for decent coverage, but light enough for comfort.
Comfort is key! Remember your goal is sensational style wrapped up in impeccable comfort.
For another wardrobe basic, Nordstroms has a big selection of maternity jeans that will keep you in your preferred style throughout the months. You may not need those pregnancy jeans quite yet, but pick out a good pair now. Your regular jeans are no doubt snug if they still fit, or soon will be. A pair of jeans that grow with you, are comfortable, and make you feel good about how you look is priceless.
Dresses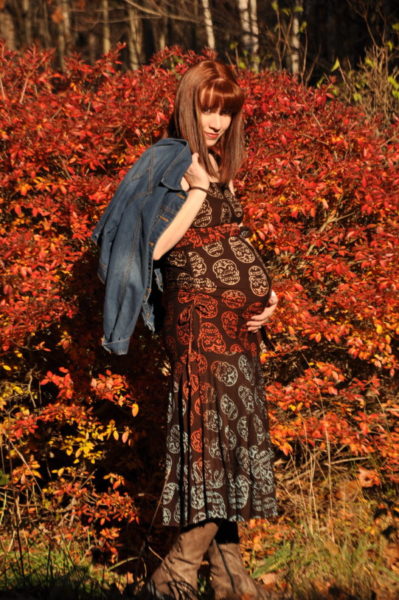 Sometimes all you want is a soft and pretty floaty dress. When you're feeling especially overheated and uncomfortable, you'll want a pretty dress you can wear on its own or add layers to during the colder months.
Maxi dresses got big in the late 60's, with designers choosing fresh Boho looks that both mothers and daughters loved. For once, they didn't seem to mind that they were wearing the same look. The elegant, casual maxi lost its appeal for a while in the leather, lace, denim, and fluorescent styles of the 80s, but made a huge comeback about a decade ago and is still going strong.
We're especially excited about the maxi dresses from Poppywells. Utterly gorgeous styles in an array of colors and designs.
Here's a snippet from their website: "Our collection features a gorgeous display of must-have maxis designed to make you feel beautiful, confident, and comfortable. Choose from soft florals, spectacular tiers, and luscious ombres. Any selection can give your wardrobe a boost and freshen up your look."
With any luck, you can wear the dress after your pregnancy, too. These aren't maternity dresses, but they work because of the very nature of the maxi dress. The tighter ones are made from a stretchy material so they have a lot of give, and the other frocks are loose and lovely. Whatever your style, you're bound to find something that appeals to you.
Good luck, Mommies. And congratulations on your pregnancy!