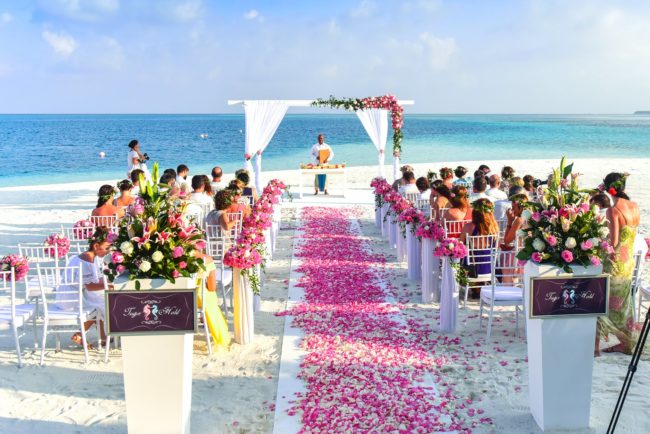 Weddings can be a really great occasion to amp up your social fashion statement with unique pieces of clothing. How would you create eye-catching wedding attire? Would you consider comfort or couture first? Do you prefer classic traditional allure or are you a free spirit who is ready to mix it up?
Because weddings are so personalized, there are many facets to consider when choosing the right pieces of clothing to wear. Let's take a peek into vogue clothing and some unisex clothing ideas to help ladies and gents to get through any wedding respectfully and stylishly.
Scarves, Pashminas and Wraps
These are excellent accent pieces that can be worn and purposed in a variety of ways. From comfort to color themes, to religious or ethnic representations, scarves, pashminas, and over-the-shoulder wraps make a very cool unisex fashion statement.
Hats and Gloves
There is nothing more intriguing than a man or woman wearing a hat and a distinguished pair of gloves.
A lady should allow her hat to remain on for the entirety of the wedding celebration to salvage hairstyling, while a gentleman would have an easier option of removing his if desired. This pairing is also season-friendly and delivers an incredibly dignified and artfully sophisticated presence.
Lovely Dresses, Skirts, and Blouses
Because weddings are so versatile, ladies can feel comfortable wearing lovely dresses. A good rule of thumb is to never compete with the bride's beautiful gown. Inappropriately sexy, short, or loud dresses won't do. You can find beautiful wedding attire at Shop Blooming Daily for some lovely dresses, skirts, and blouses that will have you feeling light, airy, and confident at your next wedding event.
Men and Women's Footwear
Shoes are one of fashion's greatest designing loves. A unique shoe style is the backbone of every outfit out there. Keep the level of formality of the wedding in mind. Finding a great pair of shoes can make a huge impact on your overall clothing ensemble. That means even the most casual weddings should coerce an extra-smart pair of shoes, boots, or sandals.
Coats and Jackets
There is something classy about a dashing and streamlined coat or jacket on a man or a woman. Soft-shouldered or shoulder-padded coats and jackets coupled with appropriately-fitted inseam stitchery reflect personal clothing tastes well.
Details matter. No matter how small. Have fun creating your favorite wedding attire that does the job.