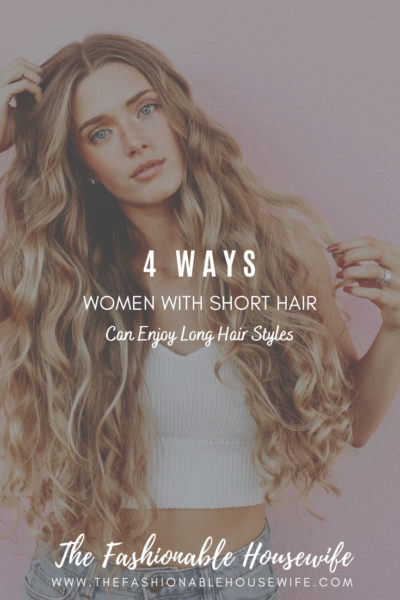 Changing your hair is a fun way to shake up your look, and a new haircut can even help you get out of a rut when you feel stuck or unmotivated. The downside is that hair grows slowly, but there are ways to add length that are much quicker than waiting for your natural tresses to grow. Whether you regret your last chop or you just want to try something different for a special occasion, here are four ways to enjoy long hair styles when you have short hair.
Extensions
Whether they're glued, taped or clipped in, extensions are an easy and popular way to add length and volume to your hair. Extensions are pieces of natural human hair that can be washed and styled just like your real hair. Depending on the application method, they can last anywhere from a few hours to several weeks. Get them put in by a professional, buy some proper styling tools like those at Usmooth, and play around with your extension style for at least 6 weeks. Hair extensions can also be reused if you take good care of them.
Weaves
A weave is a special type of hair extension that is woven onto your existing hair instead of attached to the scalp with adhesive or clipped to the root. Weaves look more natural and last longer than extensions and can even be used to conceal hair loss. However, the installation process is longer and more uncomfortable. It's also important to make sure that weaves are installed properly to avoid damaging your hair.
Wigs
The easiest and most versatile way to enjoy long hair is a wig. Wigs work for any length of hair, even if your head is shaved or you're completely bald. You can find wigs in a wide variety of colors, styles and lengths to suit any taste or budget, but custom made wigs matched to your own hair color and texture provide the most natural result.
Hair Accessories
Do you want to have fun with your hair without making a commitment or spending a lot of money? Ponytails, messy buns, brightly colored streaks and more are available attached to clips or pins for simple installation and removal at home. You can find these hair-extending accessories at beauty supply stores, drugstores and department stores.
Playing with your hair length is fun, but don't forget to protect your locks. Always have weaves and extensions installed by a qualified professional. When wearing wigs, use a cap to protect your hair and scalp from friction, and prevent traction alopecia by making sure that ponytails and other updos aren't pulled too tightly.