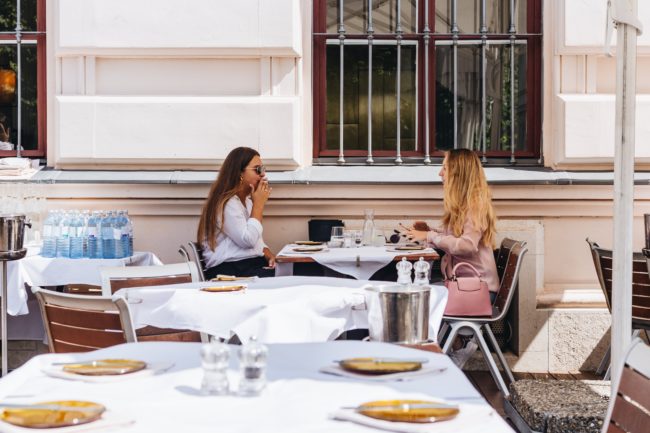 Most of us enjoy eating and socializing. However, when we eat this way, we risk the chance of over-indulging in food just by not watching what, or how much, we are eating . Whether we meet for casual or gourmet food, it is the amount of food we consume mindlessly, and not necessarily the type of food, that makes us gain weight.

Here are some tips for how to stick to your diet while socializing with friends and family.

Explore your options
If you are meeting in a restaurant, or ordering takeout to eat in, go online and explore the restaurant's menu. Get nutrition information about the ingredients contained in the food, and find out the nutrient content of each ingredient using a nutrition calculator app, or by going to WebMD's Diet and Weight Management Food Calculator online.

Plan your portions
Once you are aware of what is in the menu, and which foods you will eat, plan out how much of each of your choices you will be eating. Use actual measuring cups when you plan your meal to get a good approximate of what one cup of rice, or half a cup of green beans really looks like on a plate.

You can also use your hands as tools to measure food quantities. Being aware of how much you actually consume is the key to not getting into trouble.

Be mindful of drinks
As you plan your meal ahead, also consider what drinks you will consume to accompany your meals. Sugary drinks, beer, and even carbohydrate-free liquor such as vodka, can pack on plenty of calories if not consumed in moderation.

Do not go in hungry
Eat a savory snack that satisfies your taste buds prior to joining your group. Consider something that you actually enjoy eating within the parameters of your diet. The important thing is to regulate the insulin levels in your bloodstream while giving your body the satiety it needs for you not to overdo it at lunch.

Remember the power of water
Water is a powerful hunger deterrent. Create your very own water "mocktails" and enjoy them throughout your day to keep you super hydrated. This way your body will not confuse a need for hydration with a need for food.

You can enjoy your meals with friends and family in moderation. Just be mindful of what you eat, how much you should eat, and do your research. Awareness of food and your eating habits are the key to keeping it together even when eating in groups.