Being honest here, I waited until marriage to be with my husband. Prior to my marriage, I did not need birth control for obvious reasons. I bought a Lady Comp a few months before my wedding, because I wanted to use Fertility Awareness Method during my marriage. Due to stress and probably poor diet, my period become unpredictable. My wedding, which was in late October, was coming close, and my birth control method was "useless" to me. About two weeks after my wedding, I went on the lowest dose of a combo pill you can take. I hate using condoms, as I think everyone who uses them does. Birth control pills seemed like the appropriate option.
I felt awful. Every month I was on the pill, I was convinced that I was pregnant. I felt over-heated, slow, and fatigued. I realize now, after seeing my healthcare provider my blood pressure was through the roof. I needed to reconsider my birth control options. Fortunately, the birth control has made my cycle regular enough to use a fertility tracker.
I had bought my Lady Comp in April of 2014, however there is an updated version available now. I have found that it has kept me more consistent with taking my temperature. The alarm I have on it is infuriating enough for me to get up in time to take my temperature. The temperature stick is designed to sit comfortably under your tongue. Although I am still in the process of discovering my temperature in my cycle. It is important to understand that ovulation should be determined by using temperature, cervical fluid, and (ideally) cervical position). Although temperature is a good indicator (along with the calendar feature on the device), knowing your body's cervical fluid and position is ideal.
I would 100% recommend to every woman I know to read the book Taking Charge of Your Fertility by Tony Weschler. Please go to Amazon to purchase.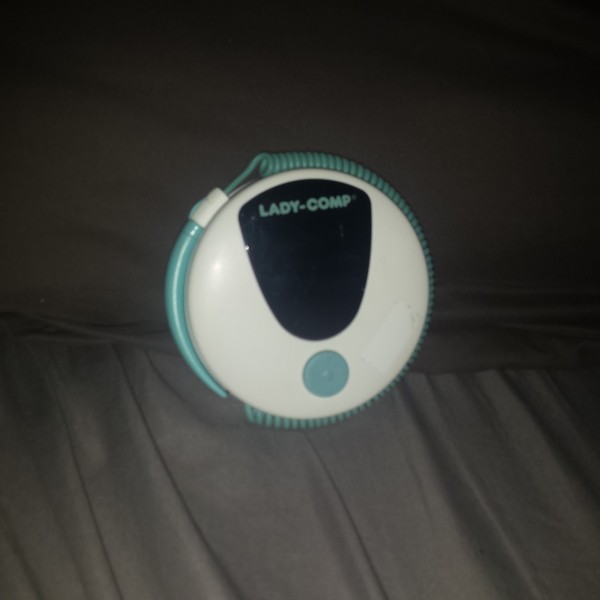 The Lady Comp is a smart product for any woman on the go. If you have a job that requires you to be up early, this device will make fertility planning possible. Your body will thank you! Please go to Lady Comp's website to learn more about their product, and consult your health care provider before deciding to stop any current medication.