There are many ways to have an inexpensive, autumn wedding. This was my experience doing it.
I determined that my wedding was going to be autumn and pumpkin themed early on. I also started making actual plans for my wedding in mid august, with my wedding on October 25th. I waited until the very last minute, and I had a low budget. Here are some of my tips for having a fun, beautiful, low-budget wedding.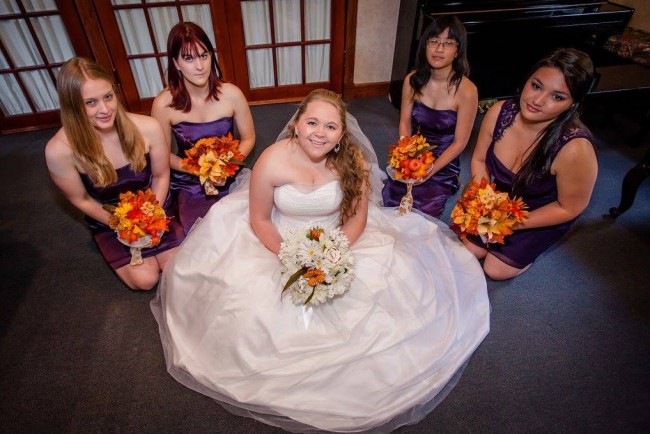 Flowers
I spend very little on my flowers. Reason? They are fake. My flowers were different colors of plastic. The one thing I knew I would definitely not be able to do is buy flowers and arrange them, myself. I do not have a delicate touch. I think many brides-to-be worry about the cost of flowers at their wedding. I think you can see from my picture that my flowers looked amazing. The beauty is that my flowers will pretty much always look like they did on my wedding day.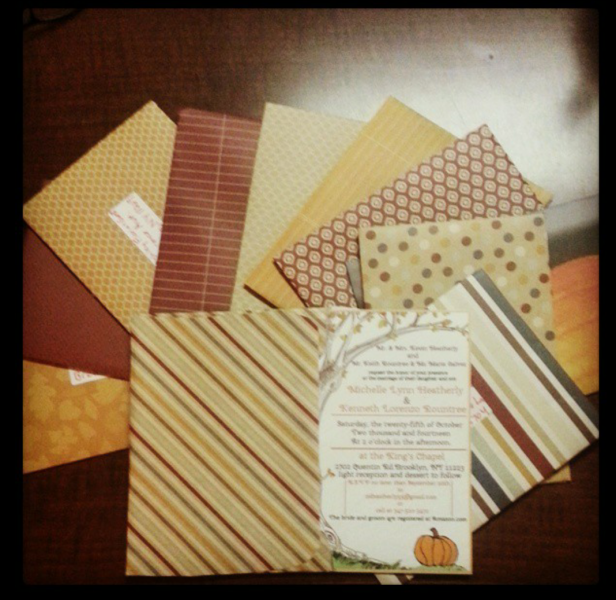 Invitations and Envelopes
I was fortunate to have a sister who is good at digital design. While she helped me to make the finer points on my wedding brochure and wedding invitation, I was able to do most of the designing myself. Using Vistaprint services, we were able to get many beautifully made invitation for very little cost. I always say, "if you can do it yourself, why pay someone?" Similarly, I did my own envelopes. You can follow a simple Pintrest pattern seen here, but I will be honest. I took apart a hallmark envelope, and cut the pattern out, myself.
                                                             Decorations and Handout Gifts
The only thing I knew about how I wanted my wedding to look was that it needed to include pumpkins. My aunt helped me to design my church reception hall. She came up with the orange and white table cloths. She even got me pumpkin spice popori. She made the table settings using fake pumpkins. I would thoroughly encourage anyone to get a helpful aunt like me, but if you don't, please look on pintrest or go to your local craft store. You can save a lot of money going DIY and it can look very good.