The importance of choosing the correct clothing for your workout cannot be overstated, as it can make the difference between exercise becoming a healthy habit and it being just another unfulfilled goal. Feeling good while you work out can serve as motivation to keep going. Here are some tips to keep you looking and feeling your best while you integrate exercise into your everyday patterns.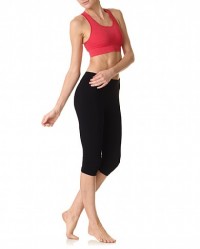 Exercise is predicated on repetitive movements, so choosing clothes that fit well and are crafted from appropriate fabrics is very important. Rough or stiff fabrics can chafe or irritate your skin; during a particularly rigorous workout this can cause abrasions or even injuries that require medical attention. Choose fabrics that pull moisture away from your skin so that sweat evaporates outside the garment without being absorbed and retained in the clothing, making it damp and uncomfortable. Â Cotton is light and breathes well, but does tend to absorb sweat, so synthetic blends such as nylon or acrylic tend to great the best balance of functionality and comfort for the price.
While these ASRV pump covers are made with a performance material designed to wick moisture away to keep you cool and dry when working out.
Cut and fit of clothing is also important. Workout pants in specific receive the most vigorous movement, so consider spending a little more for that area to ensure that they will last as long as you need them to, and to avoid painful groin area chafing. Choose clothing that fits well but isn't too tight, to avoid constriction and blood flow problems, but also isn't too loose, so it won't fall down when you most need coverage. Pants that are too long are a hazard for being caught underfoot, which can result in falling or injury. Consider these yoga pants, loose fitting for the full range of movement throughout the leg, but cuffed at the bottom for support. For women, discomfort from an ill-fitted sports bra can cause chafing or constriction. A high quality sports bra (like this Stamina Bra from online sportswear retailer Sweaty Betty) is a good place to invest, to insure you get the most out of your workout. When you try on bras at the store, move your arms and legs to ensure that the bras don't pinch or rub at any point in your full range of motion.
A new set of workout clothes can really serve to keep your spirits up when beginning a new regimen, so be sure to pick the best you can for what you can afford.