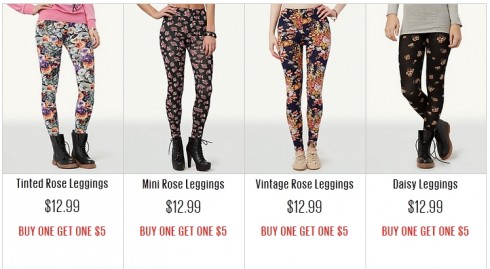 Trendy leggings are coming back in a big way, and these versatile clothes can look great on any body type. Here are some tips to integrate leggings into your body's shape and personal style.
Choose leggings that fit well. Too tight or too loose, neither is flattering to any shape. Avoid 'one size fits all' leggings because one size absolutely does not fit all, and you will likely be disappointed with the outcome. Better to say no entirely. You should be able to sit and walk comfortably, without much stretch in the fabric. If there is too much stretch, pick a larger size.
Length is also a consideration, as which you choose will accent your legs in various ways. The four main lengths are: knee-length, capri-length, ankle-length or stirrup. Capri and knee are generally considered to be spring and summer wear, but your height and body type are really the more important considerations. Shorter girls might want to avoid knee length as the mid-calf cut off can give the impression of being even shorter than you actually are. Pick a length that accentuates the best parts of your lower half. It's all about proportions, so try some lengths and see what looks best to you.
If you're curvy and worried that leggings will be unflattering, feel free to pick a darker, more slimming color like black or brown (such as these Essential Leggings from rue21), as light colors may make your bottom half look heavier. This does not preclude fun printed leggings, however; if you love them but are feeling self-conscious, pair the leggings with a mini-dress or a tunic that covers your bottom. A pretty, slim belt around your middle will give definition to your curves. Confidence is key, so do what feels right for you and your comfort level.
The right top and footwear can make all the difference. An oversized boyfriend shirt or bulky sweater can provide volume to balance out the tightness of the bottoms. Bust out your cowboy boots or ballet flats to complete the ensemble, and a whole range of lovely new outfits is born.
What is your favorite way to wear leggings?