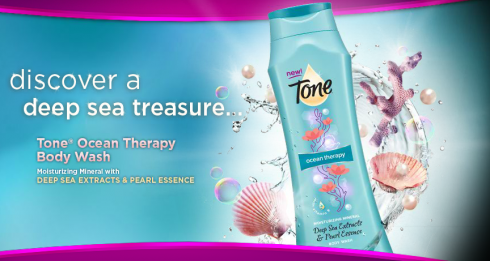 First off, I love Tone body wash. They are one of the few body wash brands that I trust. So many others end up drying out my skin, having a fake and rather nasty smell, or just not working for me. So I was thrilled I had a chance to try the new Ocean Therapy Body Wash from Tone!
The new body wash contains deep sea extracts (sea kelp) and pear essence with Vitamin E. Not only does it smell good, but it's also good for you too!
I'm completely and utterly in love with this new body wash. As I expected, it left my skin feeling silky soft and replenished. My legs feel so dang smooth! (I'm not so secretly hoping Tone will release a shaving cream at some point. Because that would be freakin awesome) Actually, my overall skin feels like silk.
The scent is amazing. It's relaxing and smells like the ocean with a slight fruity/tropical hint that I adore.
The new Ocean Spray Body Wash from Tone is available at all major retailers nationwide.