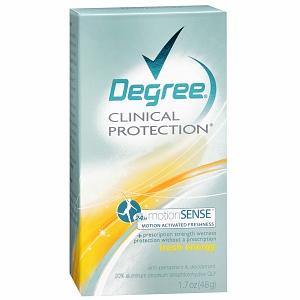 Degree is a brand that I know and trust. I remember my mother always using Degree products when I was younger so this is a brand I know and trust. Personally I'm excited to see that the Degree family is staying on top of the latest trends with their products.
It's after the holidays and if you are like me then you have five or ten pounds to lose after all those sweets, gluten and dairy. So what's a girl to do? Well workout of course!
But with working out comes sweat and odor. Thankfully Degree is here to the rescue. They have TWO brand new clinical strength deodorants that will keep your pits dry; sweat and odor free. Sounds awesome right?
So does it work?
You betcha! The line of Degree products is especially designed to battle sweat and stink in a brand new formula that will make your life a breeze. I had a chance to try two out and fell in love. Even when I was jogging and working up a sweat, it was noticeably less then when I use my typical brand of deodorant.
Degree products can be found at stores nationwide for varied (but always affordable) prices.
What is YOUR favorite degree product?