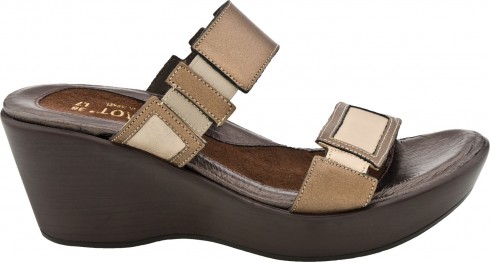 In my corner of the world spring is less then three months away and I'm getting ready for spring. Although I don't have my fur lined boots packed away just yet, I am welcoming spring with an adorable pair of sandals from Naot.
The fashionable Treasure sandal is a refreshing change from most leather spring and summer sandals on the market today. The sandal is made purely for comforts sake while having fashionable elements. The technology it contains ensure that your feet stay comfortable all day long. It's like a memory foam bed, but for your foot!
I love how adjustable this shoe is. It's narrow, but that works out perfectly considering I have slim feet. If your feet are wider I'd avoid this shoe however.
And the height? A adorable 2.75″ wedge with contrasting leathers. It offers the look of a wedge without the feel. Which I LOVE. Especially considering I have foot problems. I mean a shoe that molds to the shape of my foot? Sold.
I really adore the Treasure shoe overall. It's well worth the money that you would spend on it. It's well made, cute, affordable, and comfy!
You can purchase this product here.

*Product provided for review.