The holidays are coming up and while I'm looking forward to the goodies and first snow as much as anyone. But I'm also looking forward to the glitter. The glitz. And the glam. I'm completely in love with Butter London's holiday glitter trios that are all new this year. They make perfect stocking stuffers for friends and family members. Or just as a gift for yourself!
All six glittering colors will make sure that you sparkle and shine this holiday season all thanks to Butter London.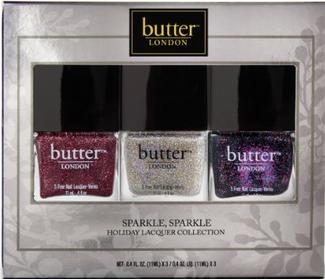 Holiday Glitter Trio number one contains three shades that are sure to make even the dullest spirit sparkle.
Rosie Lee is a pale pink glitter that will lift your spirits AND your outfit. Why the name? Well it comes from the cockney rhyming slang for a cup of tea. "Put the kettle on Love, I fancy a Rosie Lee."
Fair Cake is a a full coverage, silvery lacquer with multi-colored iridescent glitter in a light grey base. It's based off of the adorable British term for cupcake.
The Black Knight is a dark dazzling glitter fusion that contains black, pink, blue, and silver suspended in a black base. The name comes from a beloved Monty Python character from The Holy Grail.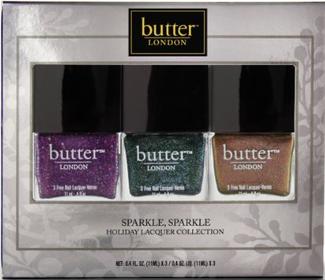 Holiday Glitter trio number two doesn't disapoint either. I'm in love with both.
Shambolic is a sheer, pinky-purple glitter and large hexagonal lavender glitter suspended in a black base. It comes from the British term for chaotic, disorganized or mismanaged.
Jack The Lad is a lovely opaque, moss green shimmer with gold, turquoise and green micro glitter. The name means an irresponsible young man seeking personal pleasure with regard to responsibilities.
Scuppered is an opaque, copper shimmer infused with pink, gold and green glitter. The name? To have your plans spoiled or ruined.
You can find both of these sparkly and adorable collections at- ButterLondon.com