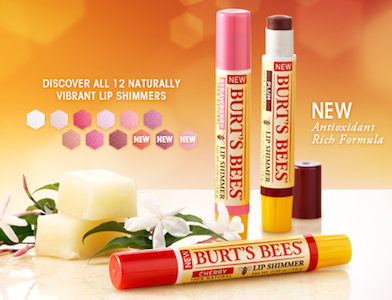 I have fallen completely in love with Burts Bees Lip Shimmers. They aren't lipstick, but they sure show up like them! I love all the different colors that you can choose from. Whether your shade is light pink or dark mulberry they have something for you.
I love how slim and compact they are. I can slip one into the pocket of my blouse or pants without having an odd shape visible. Made from all natural ingredients these lip shimmers are sure to brighten up your holiday makeup ensembles. I love how moisturizing and soft they feel.
My only problem with them is that they are very easily broken, but I think that's partly due to the extreme weather conditions that my state has most of the time.
All in all I love the lip shimmers from Burts Bees and hope they come out with a few more colors soon. They have five star ratings all over the web so it's not just me that has fallen in love with them.
Burts Bees Lip Shimmers are available at Target, Walmart, and Walgreens stores nationwide as well as online at BurtsBees.com