With cooler temperatures upon is, it's time to rethink our skin care routine for the fall and winter. Take the guesswork out of your daily regimen with one of these skin care value kits from Sephora. We've scoured the site for the best starter sets for any skin concern, so you'll be prepared to put your best face forward this season. Check out our picks below!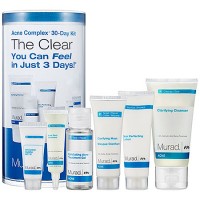 If You Have Acne…
1. Murad Acne Complex 30-Day Kit
Not only will this kit help eliminate breakouts, but it will also soothe irritation to restore your skin to its naturally healthy state. This 30-day kit includes:
0.33 oz Oil-Control Mattifier SPF 15-PA++
0.25 oz Acne Spot Treatment
1 oz Exfoliating Acne Treatment Gel
 1 oz Clarifying Mask
1 oz Skin Perfecting Lotion
2 oz Clarifying Cleanser
If you've tried everything to get clear skin, give this set a try for 30 days and see how well it works for your skin!
($35
)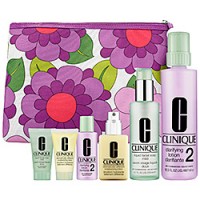 If You Have Dry Skin…
2. Clinique Great Skin Home and Away Kit
This kit is specifically formulated for very dry to dry/combination skin. The 3-step system will cleanse, hydrate and leave skin looking fresh and refined. Kit includes:
– 1 oz Liquid Facial Soap Mild
1 oz Dramatically Different Moisturizing Lotion
2 oz Clarifying Lotion 2
4.2 oz Dramatically Different Moisturizing Lotion with Pump
6.7 oz Liquid Facial Soap Mild
16.5 oz Clarifying Lotion 2 with Pump
Makeup bag
($61.50
)
If You Have Mature Skin:
3. StriVectin Less Wrinkles, More Lift Kit
For women with aging skin, this three-piece kit will help tighten skin, refine your complexion and help improve the overall look and feel of your skin. Kit includes:
1 oz StriVectin-TLâ"¢ Tightening Face Serum
1 oz StriVectin-TLâ"¢ Tightening Neck Cream
1 oz StriVectin-SDâ"¢ Intensive Concentrate for Stretch Marks and Wrinkles
($79
)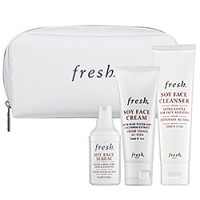 If You Have Sensitive Skin:
4. FRESH Soy Skincare Set
Cleanse skin, moisturize and tone with a skincare set designed for even the most sensitive skin. With this kit, you get:
1.7 oz Soy Face Cleanser
1.0 oz Soy Face Cream
0.5 oz Soy Face Serum
White zip makeup bag
($38
)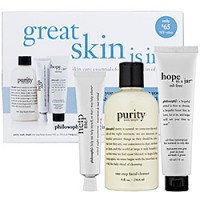 If You Have Oily Skin:
5. Philosophy Great Skin Is In Kit
For women who suffer from oily skin, this comprehensive kit will allow your complexion to look radiant and refined – while keeping shine at bay. Kit includes:
8 oz Purity Made Simple
1.05 oz Help Me
2 oz Hope In A Jar Oil-Free
($68
)
No matter what your skin type, you can find a regimen that works for you – and will pamper and protect your complexion all season long.