This season, it's all about rocking vibrant, funky hair color – but you don't have to commit to get these haute hues. In fact, the abundance of colored hair extensions, hair mascara and other temporary hair colors makes it even easier to transform your look in minutes – perfect for the commitment-phobe. If you're ready to take the plunge, here are several products to help you get locks you'll love.
Sultra Hair Extensions
These hair extensions come in an array of fun colors like Ultra Pink, Ocean Teal and Royal Violet and are a cinch to use. They come with a discrete clip that won't show in even the finest hair, and they can even be heat styled like your normal hair. If you've always wanted to try out a funky hue without the commitment, these colored hair extensions are a definite must-try!
($18, Sephora
)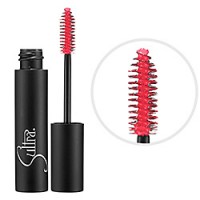 Sultra Color Hair Mascara
If extensions aren't your thing, you can still get a pop of temporary color with Sultra's Color Hair Mascara. Available in four vibrant shades: Ultra Pink, Capri Coral, Lapis Blue and Royal Velvet – this mascara can last up to two days and is easy to wash out with regular shampoo. Plus, they're so easy to use – you can control exactly where your highlights go, and wash them out whenever you're tired of them.
($24, Sephora
)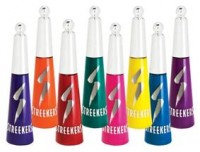 Streekers Temporary Hair Coloring
Not an extension or a hair mascara, Streekers is a liquid hair color that temporarily transforms your locks with vivid, look-at-me shades that last until you wash them out. On light hair, the 8 vivid shades really pop, while darker hair will notice subtle highlights. Plus, it won't flake when your brush your hair and can be used over other styling products. You can check out an article we wrote here.
($11.95, Colormetrics.com)
There are a lot of temporary hair dyes on the market, but these are some of the best, most convenient ways to enjoy vibrant locks without the commitment. What are your favorite temporary hair color products? Have you tried any of these before?