Stages of Beauty Skin Care is a great brand of skin care products that is an new all-natural, anti-aging skincare brand, the first beauty line that's organized by age and designed to meet the ever-changing needs of a woman's skin throughout her life.
Created and scientifically formulated under the guidance of Jasmina Aganovic, an MIT-trained Chemical and Biological Engineer, Stages of Beauty offers four lines, each formulated to address the hormonal changes/needs of your skin at every age; 20s, 30s, 40s and 50s+. After having one too many adverse reactions to skincare products with ingredients that were too harsh for her young skin, Jasmina went to work to create a skincare line that would give women a straightforward and knowledgeable approach to beauty.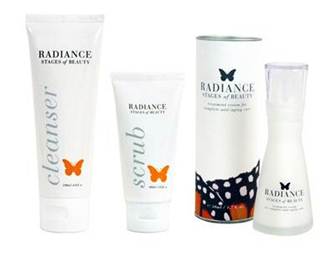 Most of us girls need the RADIANCE line (for women in their 20s). It focuses on preventative care, repairing and protecting skin against environmental damage and free radicals.
Each line includes the:
Cleanser
Scrub
Serum
Toner
Treatment Cream
and Anti-aging treatment
Unique ingredients like: Monk's Pepper Berry, African Red Tea, Pomegranate Seed, Bamboo, Ayurvedic ingredients, and other all natural ingredients help to protect, restore, and nourish your skin.
I had a chance to try the Radiance line and I love it! The products aren't greasy at all and they are so light-weight and nourishing! I haven't noticed a major change in my skin, but then again my skin is pretty clear/soft already. I did however notice that dark circles and other things have vanished so that is a huge plus for me!
If you are looking for an all natural skin care line that protects your skin while still being oh-so easy to use then for more information visit- Stagesofbeauty.com