Laura is know for her awesome makeup creations and she has added a great new product to her line: Oil Free Suprême Foundation, available in stores in April.
This oil-free lightweight formula gives skin ultimate coverage while gliding evenly on. Not only is this product silicone-free, fragrance free, it is also non-greasy. It glides evenly onto the skin. And has a soft finish that is long-lasting that feels so comfortable on the skin.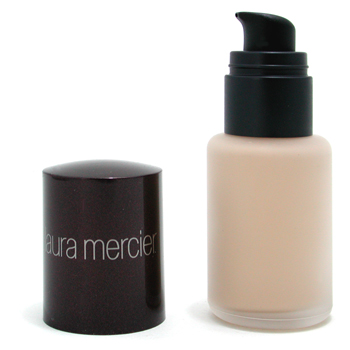 The key ingredients:

· Aloe Bardadens – soothes and refresh skin.
· Green Tea Leaf Extract – provides antioxidant and astringent properties.
· Vitamin E – provides moisturizing properties.
· Vitamin A – provides antioxidant and moisturizing capabilities and helps to reduce the appearance of wrinkles and fine lines.
· Panthenol – a hydrating agent that improves skin's natural moisture balance.
· Silica – porous mineral absorbs oils, visibly smoothes skin.
I had a chance to try it and I was thrilled. I *cough* generally don't wear alot of makeup because it cakes my face and I keep having to re-apply it, but I was so pleased with this! It is exactly what it is claimed to be and I love it!
It's quite easy to apply and it is thick so Laura recommends that you shake well before using and apply to face with Laura's Foundation Sponge or fingertips. For best results, use with a Foundation Primer.
It comes in twelve different shades: (Porcelain Ivory, Blush Ivory, Warm Ivory, Sunny Beige, Vanilla Beige, Golden Beige, Shell Beige, Tawny Beige, Honey Beige, Suntan Beige, Toffee Bronze, Rich Sienna) so you are sure to find one that is perfect for you. 
$42.00 for a 1 oz./29 ml bottle. You can find it wherever beauty products are sold in April.