Shabby Apple is one of my favorite clothing companies ever. Their adorable women's dresses are always stylish, classy, and comfortable. I love the bright colors and feminine details. When they let me review a dress from them I was over the moon. They sent me the Spanish Steps dress.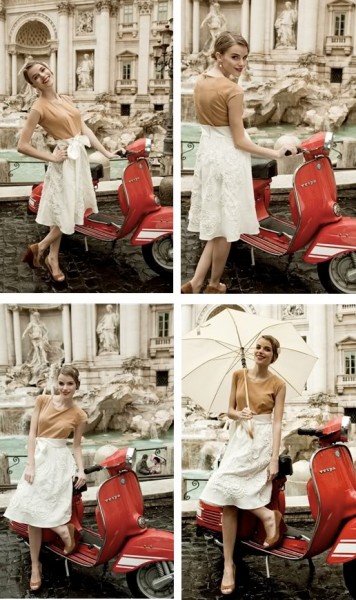 Holy cow. Where do I begin? Can I just say that first of all this dress is amazing? I'm a jean and t-shirt sort of gal. And if you combine a dress that is as comfortable as my favorite pair of Levi's then I'll be all over it.
And that is what Shabby Apple has done. They have put a soft cotton jersey of a t-shirt into a beautiful sateen skirt. Can you say comfortable? Um, yeah.
The top as a jersey capped sleeve that is gathered at the waist with a sash and the skirt has appliqued, ruched sleeves and leaves. The skirt swirls just above your knee at a perfect length.
The dress has a lovely vintage feel to it and is oh-so stylish. Spanish Steps is lightweight and delicate while still being sturdy and well made.
It's the perfect dress for a spring party, a dance, or a wedding. Plus it can be worn for so many different occasions. The dress fits generously and I love the way it fits. Spanish Steps works for most body types and it comes in sizes xs-xl.
While the dress did have some complaints on the Shabby Apple website, I thought that the dress was very flattering on me. Maybe it's just my body type, but it worked for me!!! 🙂
Coupon-
The offered you all a 10% off coupon code "fashionablegal". So you can save on one of their beautiful dresses!
Shabby Apple has so many amazing dresses and we are drooling over their spring collection! Be sure to like Shabby Apple on Facebook in order to get exclusive deals and contests!
I was sent a sample, but all of these thoughts are entirely my own and not compensated.