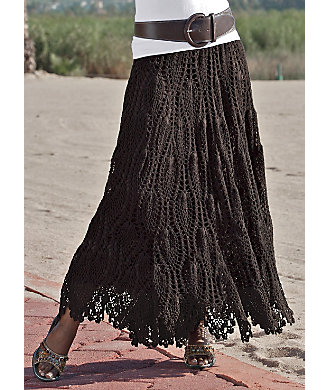 My style. Hmmm…it's hard to describe it. All over the place? Ranging from hipster, boho to edgy? Yep, that would describe it! I've been looking for a bo-ho crochet skirt. No luck. All the skirts have been too ugly, too short, too long, or too cheaply made. I had just about given up.
Until I recently had the chance to review one such skirt from Monroe and Main. I'm so excited for Spring to get here so I can wear this skirt with heels!
This skirt is sexy, but classy. It's an all over crochet skirt with a full lining (added bonus!) It has an elastic waist and is oh-so comfy. It's just the right length for my height and it fits me perfectly.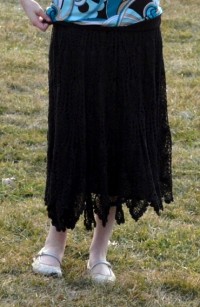 Ignore the ugly shoes and t-shirt in this post. I didn't bother to change my shirt when I shot this! I plan on wearing the skirt with a loose white blouse.
I honestly really love this skirt. It has some negative reviews, but I don't know why. I found that this skirt is very well made and well worth the money. I've had it for awhile and it has yet to fall apart on me. Maybe that is because I'm not hard on clothes? Either way, I'm pleased with it. 🙂
The best part? It comes in sizes six to plus sizes. Therefore,  it will work for all women. To purchase this skirt visit this link. Be sure to check out the rest of their products as well.
Monroe and Main was nice enough to send this skirt to me. I love it and was 100% honest in this review. How could I lie to you gals?