I'm known for being a fashion rebel. Technically in February you are supposed to pack away all those cute dresses RIGHT? Wrong. I keep them out and winterize them. Like so. 🙂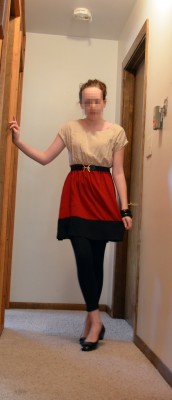 Like? I think this is an awesome way to get extra wear out of otherwise clothing fit for warmer weather. Isn't this dress adorable? I love the colors. And the belt is a lovely added touch. This dress is really well made and works for all occasions.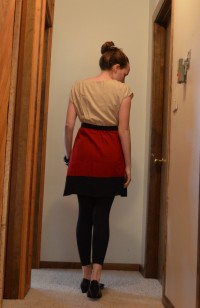 This adorable dress is from Ruche and can I just say that I love it? It's so girly and flirty. It will be perfect during the summer months when I have a date and need to dress up a bit or I have a special occasion. But for now it's perfect with tights/leggings and cute boots.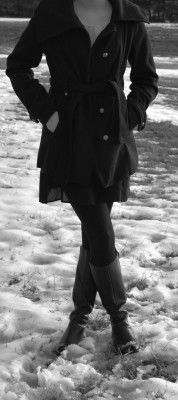 I got my friend to snap this picture for me while we were outside. I love the way the dress looks under a coat. Excuse the dirty, disgusting, yucky, snow now all over the ground. That's what I get for living in the midwest instead of California. (It's actually snowing at the moment here! Yay!) **extreme sarcasm**
I can't wait to put away my coat, boots, and tights and drag out my wedges, shorts, and crop tops. Oh summer, you can't come fast enough!!
Enough about me and my nogalistic longings for warmer weather, let's talk about Ruche for a moment shall we? I'm utterly and completely in love with this store. They ship so fast and I am so impressed with the service. I'll be buying from them soon. The only bad thing?  It's on the pricey side, but it's well worth it I assure you!
All the clothing is winter inspired and I can't get over how cute the things are! 🙂 Until I pay my bills this month and can buy another dress from them, I'll be wearing this baby all winter long.
Are you like me? Do you wear what you want during the winter or do you pack everything away?
*Ruche was nice enough to send me this dress, but I REALLY do love it and I'm totally in love with them. It's not a load of number two*