Ok ladies! I decided to try something new. Outfit of the week! Well, sort of. I'll post outfit ideas when I get a chance and share with you how you can re-create them!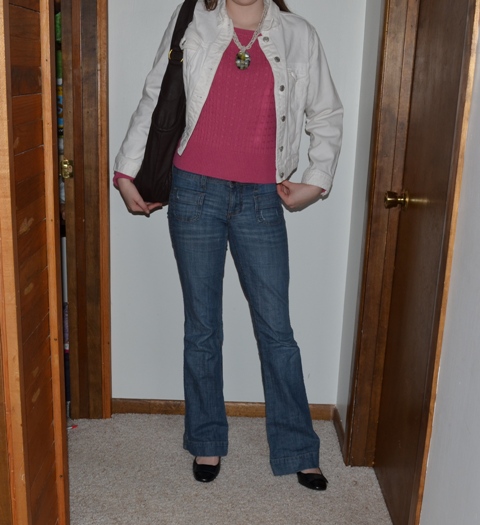 Today's features my white denim jacket from Old Navy. It's the star of this show and adds a bit of edge to the outfit. I literally threw this outfit together in seconds.
My favorite part? The jacket hides any flaws. You can easily hide any of your "flaws" with a great jacket or blazer. Plus the jacket/blazer look is really at the moment.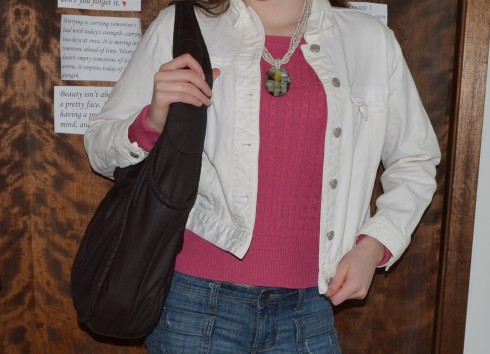 I was in a hurry so I just grabbed my go-to brown handbag. It's adorable and even if it doesn't go 100% with the outfit, I still love it. Besides who said that everything had to be matchy-matchy anyways???? It's good to break some fashion rules!
Of course if you know me I always add my own personal flair. And since I'm also a lover of boho items I added my favorite necklace made from recycled beads and fibers. Cute right?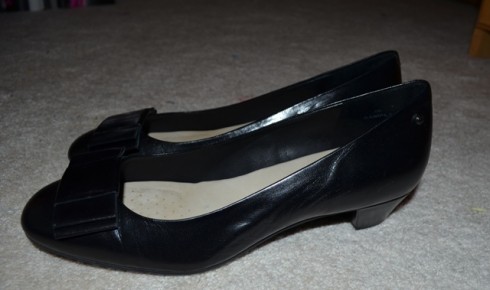 And for my shoes I grabbed my oh-so comfortable heels from Rockport. These bad boys are amazing. If you are looking for a cute pair of heels that are super comfy then you have to buy these! They have around a 1-2″ heel so my 5″7 frame looks around 5″8.
Ignore any flaws please! Nobody's perfect! (cue Jessie J!) :)Â I have no clue what that streak of white is on my sweater. It must be my camera because that's not on my sweater!! 😀 And the jacket really isn't crooked. I was pulling on it from the one side….. Â Oooh, that picture is making me want to pull it and straighten it. Grr……:P
What I wore-
Aeropostale Sweater (thrifted for $2)
Old Navy White Denim Jacket (thrifted for under $10)
See Thru Soul Jeans (Macy's)
Necklace from FiveAccessories.com
Purse from mark
Heels from Rockport
My nails which badly need to be redone Zoya's Shay
Happy New Year!!!