I love my t-shirts. Seriously. I LOVE them. But there are just some days when I don't want to spend $25 on a t-shirt. Which is why I love CheapTees.
I had a chance to review the Anvil Ladies Basic Cotton Tee and the Anvil Ladies Long Sleeve Tee. I love them both and you can't beat their prices!
First of all, let me just start by saying that you might want to wash these t-shirts by themselves if you buy bright or dark colors. Why? Well because for the first washing or so, they will run.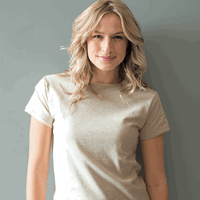 I love my t-shirts from Cheaptee's! They are so comfortable and look great on me! They are very well made, and wash up really well.The colors are awesome and these t-shirts are perfect for layering or for wearing by themselves. They are going to get ton's of uses from me all year long.
Don't let the prices fool you! Their products are very well made and they are so worth the money. They also offer free shipping on orders that are over $69 and free returns! With those great deals you can't go wrong at all!
Whatever your needs are this winter, CheapTee's has you covered.
The product for this review was provided to us free of charge for the purpose of product testing. This does not effect our opinion of the products in any way. We only write about products we personally like and use, regardless of how they were acquired.