I don't know about you, but I'm sure that you all have some last minute gifts to buy. And here are our top gift ideas for the holidays.
ghd Scarlet Collection Limited Edition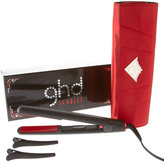 This  Scarlet Collection Limited Edition Set.  This is one amazing flat iron. It allows you to create curls, waves, flicks, or straight looks.Packaged in a luxe, red satin roll mat that doubles as a chic clutch, this limited edition collection is the perfect accessory to keep you and your hair looking stylish, throughout the holiday season. It's well worth the money I assure you.
Price:Â $225, available at www.sephora.com
LaLicious Collection Gift Set
This  all natural LaLicious offers a deluxe gift set with everything you need to cleanse, exfoliate and moisturize your body. Packaged in a beautiful chocolate brown reusable gift box, this collection includes a full-sized soap, scrub, body butter and oil. You can chose from eight of their most popular scents!
Price:Â $95, available at www.lalicious.com


TEMPTU Limited Edition Everyday Luxury Set

Give the gift of flawless skin this holiday season with this set. This gift set is sure to please any girl who wants flawless skin. It makes airbrushing affordable and easy!
Price:Â $275 (a $332 value), www.temptu.com

CoSTUME NATIONAL PoP COLLECTION EDP


The perfect gift for the fragrance lover in your life, PoP is Inspired by the minimal, yet bold, monochromes of the CoSTUME National ready-to-wear collection. It captures fruity, sexual, classic, sophistication, and sensual in several different perfume bottles.
Price:Â $100 (100 ml), available at CoSTUME NATIONAL, Barneys New York and www.luckyscent.com

Juliette Has a Gun Vengeance Extreme EDP

This seductive scent is infused with pure ingredients. It has a  intense dose of chypre, enhanced with notes of patchouli and Bulgarian rose.  Tempting and intoxicating, this provocative scent imparts an irresistible allure to all exposed.
Price: $103 (100 ml), available at www.juliettehasagun.com and fine boutiques nationwide.
What are you top holiday gift ideas?