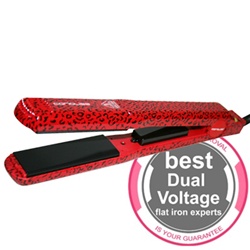 As The Fashionable Gal, I try ALOT of hair products. Seriously. Some meet the bill, and other's, well they fall short of my expectations.
However, every once in awhile I come across a AMAZING product that I just have to share with the rest of you fashionable gals in the world. And, we found that product. What is it? It's called the Corioliss Pro V Flat Iron, and let me just say this baby ROCKS! I mean it's out of this world amazing.
Alot of flat irons just flat out suck. I mean SERIOUSLY, they suck! And I wish it wasn't the case, but unfortunately, it is. However, the Corioliss doesn't. Like I said, this baby ROCKS! Here's a list of the impressive features-
100% Tourmaline Ceramic plates for healthier hair and a high gloss shine
Adjustable temperature from 140 to 410°F for easy use
Fast Heats up in less than 6 seconds
Straighten, flip or curl your hair
The innovative PTC ceramic heater heats up in a flash, and stays at the temperature while styling
Ionic heat leaves even damaged hair more sleek and color-protected
Far Infrared (FIR) technology locks in moisture and natural oils
Sleek, ergonomic, non-slip grip designed for professional comfort
Professional 360° swivel cord to prevent tangling
Nano silver technology – style and clean your hair at the same time!
Dual Voltage from 110/120 to 220/240 can be used anywhere
Made in Korea
One year limited warranty
The Pro V model is currently Corioliss's best selling model, it is a upgraded version of the Classic Pro model. And ladies all over the world love this flat iron! Why? Because it is AMAZING!
I tested it out on my hair and let me just say "wow"! What a difference! I have a H&R flat iron, and let me just say never again will I be using that product. It's a great product, but compared to the Corioliss, it's like a drug store flat iron!
First off, the quality of this product is AMAZING! It heats up super fast  (within six seconds) and has several different heat settings that you can choose from, it easily turns on and off and has a 360 swivel cord so that it won't get tangled. AND it can be used anywhere!
The Pro V can do SO much! It creates amazing curls, it straightens your hair beautifully, and the end result? Beautiful long lasting hair styles that look amazzingggggg!!!!
Not only does this product work like a dream but it preserves more moisture within the hair shaft, eliminates frizz and close the cuticle to create smooth and shiny hair, and causes less damage to the hair cuticle during styling. How great is that???
My hair looks and feels incredible after every use! Â However, I also use the KQC Thermal Styling Product along with it to ensure that the heat doesn't damage my hair. And it really does make a difference!
I'm in LOVE with this flat iron. It rocks and it's incredible. Plus, who doesn't love a  red leopard print flat iron??? 😀 Every fashionable gal needs one of these! This product went above and beyond my expectations. It's even better then the descriptions and the reviews make it out to be!
Don't believe my review? Then check out what other gals are saying in the review of this product! But, if you do believe me then be sure to buy this product! It's WELL worth the money! Like I said, EVERY girl needs this flat iron!
The product for this review was provided to us free of charge for the purpose of product testing. This does not effect our opinion of the products in any way. We only write about products we personally like and use, regardless of how they were acquired.