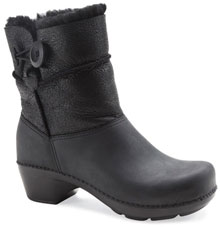 I don't know about you, but boots are my FAVORITE trend this winter! And I'm always looking for a cute pair. And Dansko's Stormy Black Oiled Nubuck fits the bill perfectly.
I'm in love with these boots! They have a soft lining and I love the button! That totally makes the boot! It's very comfortable and versatile. I love that they go with just about anything in my closet.
The only thing that I don't like about these boots is that they can be a pain to pull on and off. I don't have big feet or wide calfs, I think that it's just the style of the boot. But other than that it's a great boot!
This boot is perfect for any occasion and I LOVE that it has great traction. You won't slip with this boot! 🙂 Â It's a great boot for fall and winter.
Be sure to check out the rest of Dansko's boots! They have some SUPER cute shoes that are perfect for winter!
The product for this review was provided to us free of charge for the purpose of product testing. This does not effect our opinion of the products in any way. We only write about products we personally like and use, regardless of how they were acquired.