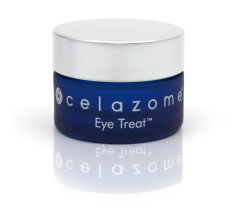 I have horrible bags that no amount of makeup can hide. So, I just snorted when I saw this eye cream. But when I got chance to try it, my mind changed about it. You see, I have tried TONS of eye products. And none of them have worked that well.
However, Eye Treat is a different story. This product revolutionizes eye care products.
I have tested out this product for almost a month, and even though I SHOULD have huge bags, I don't. This product is amazing. Not only does this product help to remove bags, but it also helps to remove imperfections and flaws beneath your eyes. It's like a botox for eyes!
This product is amazing. I can't believe the difference in my eyes! Friends used to comment on how tired I look, but not anymore thanks to this miracle in a bottle!
Don't believe me? Try it out for yourself here!
The product for this review was provided to us free of charge for the purpose of product testing. This does not effect our opinion of the products in any way. We only write about products we personally like and use, regardless of how they were acquired.