Fall is here (YAY!), but with it comes the battle to stay healthy. Cold and flu bugs are all around us. Yuck. This fall, protect your self from a cold with these awesome products from Burts Bees!

NEW Medicated Lip Balm with Eucalyptus Oil ($2.99): Infused with penetrating Menthol Oil, this naturally medicated lip balm alleviates pain and relieves dry, cracked lips.  A blend of cooling Eucalyptus Oil and Shea Butter helps hydrate dry lips, leaving them soft and smooth.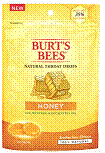 NEW Natural Throat Drops ($1.99): These 100% natural throat drops are made from sweet, golden honey. Formulated with cooling Menthol and soothing Eucalyptus Oil, the delicious throat drops provide fast, effective, soothing relief for sore throats.  Available in two great flavors, the drops contain just the right amount of naturally soothing ingredients to provide instant comfort.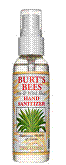 Aloe & Witch Hazel Hand Sanitizer ($5.00): This all-natural sanitizer eliminates up to 99.99% of germs anytime, anywhere AND soothe hands. Free of synthetic or petro-chemical ingredients, the effective formula cleanses and soothes with beneficial ingredients from nature, including Aloe and Witch Hazel.
What are your must have's from Burts Bees?