A top trend this fall is going green. And one way that you can go green is with adorable eco-friendly accessories. And Bazura Bags is a awesome way to do that!
Bazura Bags sells eco-friendly handbags that are not only green, but they also give back! Check it out-
Bazura Bags works closely with a Women's Co-operative in the Phillipines. The Co-op's members collect discarded juice containers, rice bags and advertising banners, then transform this trash into beautiful, durable hand-bags and accessories.

In addition to helping the local environment, this also provides jobs for 100's of women whose products are used around the world as eco-friendlyalternatives to disposable plastic bags.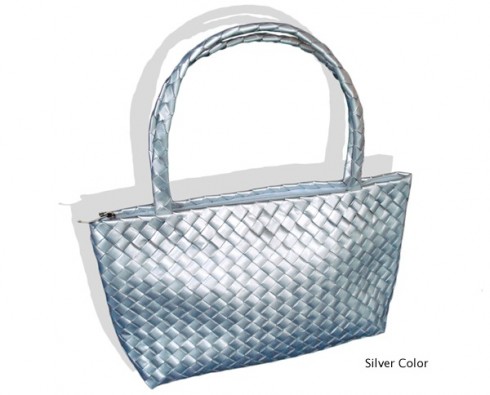 I got a chance to review the Woven Zipper Purse. This adorable, fashionable, and totally chic, yet totally green handbag is a pre-consumer waste bag that is woven with the foil side out. This bag took over ONE day to make. WOW!
I was really impressed with the quality of this bag. It's so cute and it's very well made! I love that it has a zipper closure. However, this bag is made for light weight things. It's perfect for a night on the town!
Is this bag worth the money? I think so! It's totally cute and plus, I really love that it's eco-friendly! I'll be rockin this cutie all fall/winter long!
You can shop Bazura Bags on the web here.
The product for this review was provided to us free of charge for the purpose of product testing. This does not effect our opinion of the products in any way. We only write about products we personally like and use, regardless of how they were acquired.