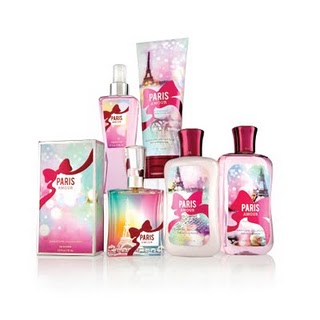 Bath & Body Works newest scent is now in stores! Since fall is officially here, why not try out a new scent? Paris Amour is the perfect scent for the fall. The essence of a woman who isn't afraid of spontaneous adventure. Feminine and romantic, Paris Amour captures those first fleeting moments of falling in love: stolen glances from a beautiful stranger, a stroll down the Champs-Elysees, the unforgettable kiss.
The latest addition to the Signature Collection, Paris Amour evokes the enchanting spirit of the namesake city. Envelop yourself in Parisian allure every day with a blend of sweet sparkling florals and warm, creamy musk. A part of Bath & Body Works' "Romantic" collection, Paris Amour is formulated to make you feel elegant, beautiful and chic.
Let me just say that this scent SCREAMS sexy. I takes alot for me to fall in love with a scent. I mean sure I can like a scent, but that's not the same as LOVING one! Right? To be honest, I wasn't expecting much from this scent, boy was I wrong! This scent is amazing! It's everything that B&B claimed it to be and some! I'm in LOVE with it! I got to try the bubble bath and it's amazing, but I'm dying to try the body mist. Mmm….
Notes include-
Sparkling Mandarin, Petite Strawberry, Cassis, Pink Apple Blossom, Dewy Freesia MID NOTES Luscious Peach, Jasmine Petals, French Tulip,  Water Lily, Frangipani DRY NOTES French Vanilla, Coconut Milk, Amber Wood, Sandalwood, Creamy Musk….
Products include: Shower Gel ($10.50), Body Lotion ($10.50), Fragrance Mist ($12.50), Eau de Toilette ($29.50), Bubble Bath ($12.00), Shimmer Mist ($14.00), Select A Shimmer ($14.00)
To purchase the collection please visit this link….