Well, as much as I hate to say it, Fall is here! And you can celebrate fall by shopping at Earth Creations. All of their products are made in the USA and are made from 100% organic cotten. How cool is that? Earth Creations sells adorable pants, skirts, tops, and dresses for women, but that doesn't include their men's collection or children's collection.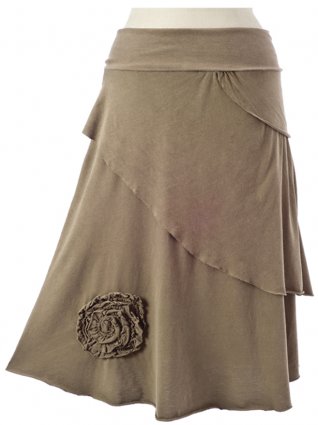 One of my favorite items from Earth Creations is their Sasha Skirt. I'm on a bit of a hippie/boho trend at the moment and this skirt fits the bill!
This adorable skirt is a triple-layerd skirt with a sweet appliqué along the hem. It's semi-fitted just enough to show of your body without showing off too much.
Personally, I love this skirt. It's still warm enough to wear skirts here in the northwest, so I'm probably going to wear this skirt for a little while this year. Well, at least until the cold weather comes around. 🙁
This skirt comes in sizes small-xlarge and comes in five cute colors! So you are sure to find one you love!
For more information please visit Earth Creations.net
I was sent a sample in exchange for this feature, but all opinions are mine.