Okay, I'm a freak. We've already established that right??? Well, I'm also a trend-lover, and some of the hottest trends are hair accessories. I mean what's not to love? Hair accessories are cool and they look awesome! And Hair Twisters is bringing us trends affordably! This fall, add diversity to your hair with Hair Twisters!
Hair Twisters sells some pretty amazing hair accessories, but here are my four favorites!

I'm loving the whole feather hair extension trend, and instead of paying a couple hundred dollars to get extensions, I can pay $20.00 for a well made hair extension that is removable! I love this hair extension piece! It's so easy to use and is so fun!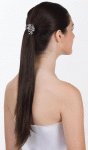 I love roses. They are my favorite flowers. But, I don't like to wear them in my hair because of 1. bugs, 2. thorns, and 3. the pain that they are to put in. But thankfully, there are other options! This rose hook is so cute! And it looks amazing in your hair! And it's SO comfy! You don't even know it's in your hair!
Butterflies Silver Hair Twisters and Silver Dragonflies Hair Twisters-

The 4 inch Hair Twister's will work on any type of hair that is medium length or longer. Â The metal coil will fit around a pencil thickness of hair, and the locking hairpin will push down through the middle to ensure that your Hair Twister stays in place. You can wear it comfortably all day without worrying about your favorite hair accessory falling out.

Both these hair twisters are adorable! And they are a great way to add a new hair accessory to your hair! 😉
For more information please visit- hairtwisters.com
I was sent a sample in exchange for this feature, but all opinions are mine.