I'm in love with Down East Basics. They have the most AMAZING clothing! They have a huge collection of affordable clothing for women. So you are sure to find something that you love.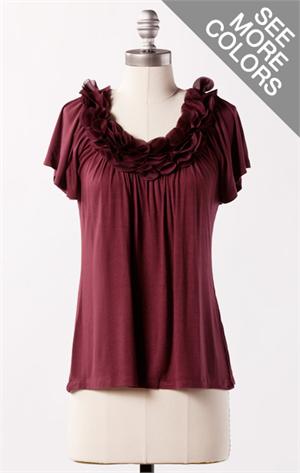 However, I am currently drooling over their Class Act Top. It's SO drool worthy! This lovely top is a jersey knit peasant style blouse with short flutter sleeve and applique chiffon petals around scoop neckline. It's made of 96% rayon/4% spandex, comes in sizes XXS-XXL, and comes in two colors red and black.
This top is so comfy! It fits me like a glove and is adorable! I love everything about it! The fit is amazing and I love the petals all around the neckline! It's a cute touch!
I love that I can dress this top up with a pencil skirt and heels, or dress it down with some flats and jeans. It's so versatile and plus, it's so cute! I get so many compliments when I wear it!
What's even more amazing is the fact that DownEast supports breastcancer! Check it out-
From now through October 16, DownEast Basics is running its annual LIVE for Pink donation event – read the inspiring stories of DownEast's special LIVE for Pink photo shoot with everyday women impacted by breast cancer, and more info on the campaign here.

We're donating 50% of all proceeds from the limited edition LIVE for Pink tee series (up to $25K!) to our LIVE for Pink breast cancer awareness efforts charity – Needs Beyond Medicine. Be sure to check that out here!
Be sure to check out Down East Basic's on the web!
I was sent a sample in exchange for this feature, but all opinions are mine.