I'm quite possibly Burts Bees biggest fan! I own I don't know how many of their products! And since I'm such a HUGE fan I thought that I would feature my two newest finds from them!
Honey & Shea Conditioning Body Bar
I love this soap! It's 100% natural and is made from honey and shea butter. What could be better? The honey and shea butter creates a rich lather that cleans away dirt and oil leaving your skin feeling soft and silky. This soap will nourish and make your skin look and feel wonderful! Plus, this bar is only $5.00!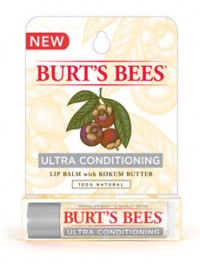 Ultra Conditioning Lip Balm with Kokum Butter
For one application of this 100% natural lip balm you get 4 hours of moisturization. How awesome is that? Thanks to this lip balm you can kiss your dry lips goodbye! This lip balm is clinically proven to give you four hours of long-lasting moisturization! And this ultra-hydrating lip conditioner is infused with rich Kokum, Shea, and Cocoa Butters. Giving you more butters and less wax than other balms, so your lips will be left soft and super smooth. This lip balm is also fragrance free and has no flavor at all! I'm in love with this lip balm! Plus, I love that it's only $4.00!
What are you waiting for? Go check out Burts Bees on the web at- burtsbees.com