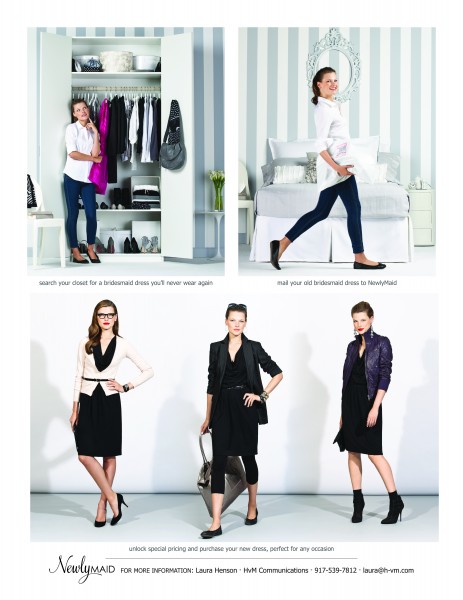 Newlymaid is a unique way to exchange your old ugly, bridesmaid dress after the wedding for a new little black dress that can be worn for any occasion. Newlymaid is the first service of its kind to offer women a way to enjoy savings, reduce their carbon footprint, help others in need, and get a fabulous dress they can wear for any occasion!
How It Works
Upon visiting NEWLYMAID.com, customers can request a complimentary return mailer to ship their old dress to NEWLYMAID. The mailer will include a prepaid return-shipping label for an easy return. Once NEWLYMAID receives the returned garment, it is inspected to make sure it meets the NEWLYMAID criteria: no pulls, tears or stains and all zippers and closures must be in good working order. If the dress qualifies, the customer will receive an email confirming that the dress is accepted and that special pricing has been 'unlocked' on her NEWLYMAID account. She can then visit NEWLYMAID.com to order her dress at the special price.
NEWLYMAID offers a way to swap "something old for something new" in a modern way with environmental benefits and charitable incentives.  Visit www.newlymaid.com to get started.