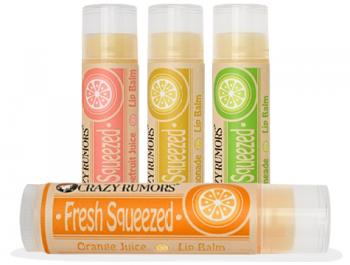 I LOVE Crazy Rumors lip balm! And I'm super excited to say that they are introducing four new lip balms! I got to try two!
Limeade–
A deliciously limey lip balm that smells (and tastes!) just like limeade!
Pink Grapefruit-
A yummy tasting lip balm that smells and tastes exactly like grapefruit!
Then new lip balms do a great job of keeping your lips protected and silky smooth for summer!
I love Crazy Rumors as they are 100% natural with no nasty chemicals, AND they don't test on animals! YAY! (how can people test on animals anyway????) And I love that I can pronounce all the ingrediants on the label! Yay! I love Crazy Rumors!
You should definitely check out Crazy Rumors on the web and be sure to use the coupon code  FRESH for 15% off your total order!