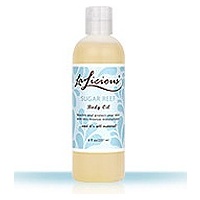 It's summer time! And it's also time to get your body soft and silky! And there is no better way to do that then with a luxurious body oil!
The new body oil from Sugar Reef does just that. Applying it every night will leave you with super soft skin that you'll want to touch all day long. And it isn't greasy at all! And it blends into your skin really fast. The end results will leave you thrilled that you purchased it!
Plus, this body oil smells amazing! It's infused with wonderful scents melon, ginger, and white tea! It's a luscious sweet scent that you don't want to miss out on!
This body oil is one treat that you won't want to miss out on this summer! Priced affordably at $24.00. Buy it here.