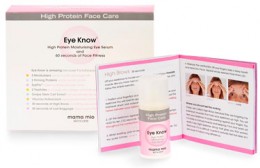 I suffer from something I call "raccoon eyes" it's a combination of late nights and alot of other things. I have literally tried tons of beauty products to get red of the dark circles, bags, and puffiness around my eyes. Thankfully Mama Mio has invented another beauty fix it and their new product Eye Know saves the day! Hurrah for Mama Mio!
I've been using this product for the past few weeks and I've noticed a big difference in my eyes. They no longer have bags, dark circles, and puffiness. They look healthy and I love how they look! Eye Know is the perfect way to get healthy looking eyes naturally.
I love Eye Know and will definitely buy it in the future. It's a little pricey, but well worth it!
You can buy Eye Know for $39.00 here.
The product for this review was provided to us free of charge for the purpose of product testing. This does not effect our opinion of the products in any way. We only write about products we personally like and use, regardless of how they were acquired.