Acacia swimwear, created by good friends Lyndie irons, and Naomi Newirth offers the gold standard in fun, and sexy swimwear.  As part of my Get Fit series, I picked the brain of Acacia designer Naomi Newirth, for her top tips and tricks to looking good in a bikini.
Andrea: What drew you to designing swimwear?
Naomi: Growing up on Maui, I spent a lot  of time on the beach surfing Ho'okipa or running to a waterfall, spending the majority of the day in my bikini. After graduating from high school, I learned how to sew my own swimsuits and thought that would be a good way to deicide on whether or not I wanted to attend fashion school. After applying to FIDM I had spent the summer of 2006 in Bali, where I was introduced to many design possibilities. That's when I knew I wanted to start ACACIA.  Lyndie  always wanted to start her own swim line, so being such good friends it seemed perfect to start a swim line together 🙂
Girls in Hawaii are bathing suit connoisseurs and it's really hard to find that perfect bikini. We wanted to create what that perfect bikini was for us!
Andrea: Your new collection is called "La Cantik Boheme", which means "The Pin-up Bohemian", what's her lifestyle like?
Naomi: She is a "gypsetter" with a hippie-chic fashion forward style. Just like us she never fully enjoys going to 5 star hotels and laying pull side. She is more adventurous, likes off the beaten path places and enjoys the culture of beautiful destinations such as Bali, Maui, Montauk, Fiji, Australia, France, Morocco, India and the list goes on. She leads a healthy and active lifestyle
Andrea: Do you have a favorite piece from any of your collections?
Naomi: I do! I love Coco (pictured below in black). I think it's the perfect mix between being sophisticated, chic and sexy.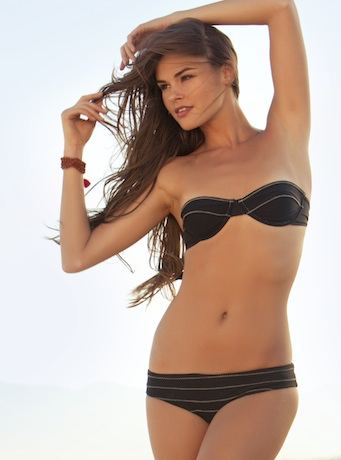 I also love throwing Taven (pictured below) on if I am just going for a jump in the ocean or romping around town I'll throw a pair of jean shorts over. Our Cantik print I absolutely love love too. I definitely have a few favorite pieces that are always my go to pieces. Missy, Signature, Riley, Mila and I'm always mixing matching!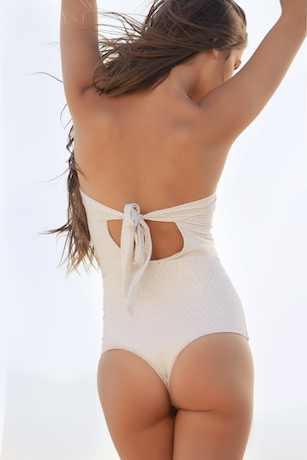 Andrea: How can a woman feel confident in the suit she is wearing?
Naomi: The secret is to already be confidant with who you are and your body and who's not afraid to show a little skin. We're all about standing out, not fitting in! Our designs are chic, flirty and sexy. I design these because its what I feel good in. What a lot of woman don't know is that a smaller bottom regardless of if you have a good bum or not it makes it look better! I never felt confidant wearing a fuller coverage bottom as the shape and definition of your bum gets lost in all that fabric. A saggy bum is never attractive.
Andrea: What makes a good bikini in your opinion?
Naomi: It has to be comfortable, practical, quality fabric, and a design you feel confidant in and love!
Andrea: You live in Hawaii, where bikini's are mandatory, how do you stay in Acacia-wearing shape?
Naomi: Haha. Maui makes it really easy to stay healthy. When I am not in my office I am either walking the beach or surfing. We also have one of the most wonderful health food stores I have ever been to called Mana foods in Paia. I also recently became a member of upcountry fitness and I am addicted to this class called fusion fit.  I go 2 to 3 days a week. It's a high Intensity, low impact interval class, The class lasts an hour and a half. I never thought I would love a workout class haha but I do! The teachers, music and people that go are amazing! When I am really staying on top of my health I do yoga as well. Another little trick to staying healthy and fit is also paying attention to what you put in your body. Don't get me wrong….I have my little junk food binges. But for the most part I try and eat healthy (organic, gluten free-I live off of Ezekiel products which are all sprouted grain breads and tortillas etc. I try and be dairy free but goat products are ok, and almond milk is an amazing replacement. I also try and keep my sugar intake low and if I am going to have something with a sweetener in it I try and only have honey or maple syrup. And if its juice I try to drink fresh fruit and vegetable juices. My favorite is apple, beet, carrot, celery, ginger and lemon!
Andrea: What are your top tips for rocking an Acacia?
Naomi: Stay healthy and be confidant and wear the bikinis because you love them not for anyone else's enjoyment. There is nothing more unattractive then someone who is not confidant. I wear the suits for myself b/c its what I am most comfortable wearing!
Andrea: If you were stranded on a deserted island, what three things would you bring with you?
Naomi: A machete, of course an acacia, and good drinking water. Everything else you can get from the land and ocean.
Do you wear daring bikini's? What are your tips for looking good in swimwear?
xox,
Andrea