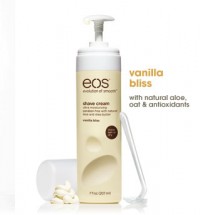 I'm a huge fan of EOS I mean who wouldn't love their wonderful products? Not only do they work, but they are all natural and have the CUTEST packaging! I love them! I'm totally hooked on their lip balm and can't wait to go to Walgreens and
get some more. But, anyhow on to their shave cream.
EOS was nice enough to send me some of their shave cream to review. I was sent the Vanilla Bliss.
My thoughts:
This shave cream smells SO good! It smells exactly like vanilla. And it's not a synthetic vanilla either.
I really liked how soft and smooth this shave cream left my legs feeling. You don't need a lot to get a good shave. However, it did have a heavy sort of feeling to it. But, that's okay.
Normally I use a lot of lotion after I shower, but I didn't with this shave cream. So I really liked that. I also loved that it's paraben free and is packaged inside a plastic bottle so no more rust rings around your tub!
I really liked this shave cream and would use buy it again in the future. Kudos to EOS for making another great product!
You can check EOS out on the web at- evolutionofsmooth.com be sure to fan them on Facebook and follow them on Twitter.
The product for this review was provided to us free of charge for the purpose of product testing. This does not effect our opinion of the products in any way. We only write about products we personally like and use, regardless of how they were acquired.