Dr.'s REMEDY Enriched Nail Polish is a new line of doctor-inspired cosmetics that are dedicated to using clean, hypo-allergenic, anti-fungal ingredients.
I was sent three of Dr's Remedy Enriched Nail Polish to review.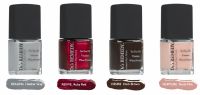 Dark Brown, Heather Grey and Ruby Red. (the other color is Nude Pink, but I didn't get to try that one)
My thoughts:
The nail polish is is wonderful. This nail polish stays on really well! I've had some on my toes for at least 2 weeks know. I really liked that aspect! All of the nail polish colors are really great and I love them all! I highly recommend Dr.'s REMEDY nail polish!
Dr.'s REMEDY nail polish is sold online at http://www.remedynails.com/ or by calling 1-877-323-NAIL.
The product for this review was provided to us free of charge for the purpose of product testing. This does not effect our opinion of the products in any way. We only write about products we personally like and use, regardless of how they were acquired.