The product for this review was provided to us free of charge for the purpose of product testing. This does not effect our opinion of the products in any way. We only write about products we personally like and use, regardless of how they were acquired.
emerginC sent me two sample sized products to try.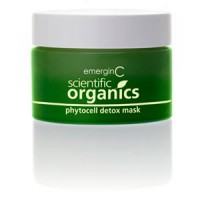 This facial mask isn't overly thick. But it's thick enough. To be honest I've never tried a lot of facial masks so I can't tell you how it compares to other masks, but it did make my face feel quite soft and smooth. I liked that aspect of it! I really liked this mask and would buy it in the future.
This mask is a bit pricey, ($50.00) but it's worth it.
I've tried quite a few facial cleansers and I know what I want in facial cleansers. When I tried this facial cleanser I wasn't sure what to think at first. But the more I used it the more it grew on me. It's a really nice facial cleanser that does a good job of cleaning your skin and leaving it refreshed and soft.
I wouldn't say it's my favorite mask. But it's a nice cleanser! You can buy this cleanser for $34.00.
To purchase emerginC's products please visit: http://www.emerginc.com/