Spring is just around the corner and with it comes new fashion trends. So I thought I could share with you something that is super hot this season!
I absolutely adore the neutral fashion trend for Spring 2011 and I found some great products that'll make this trend pop on you this Spring!
The Dress: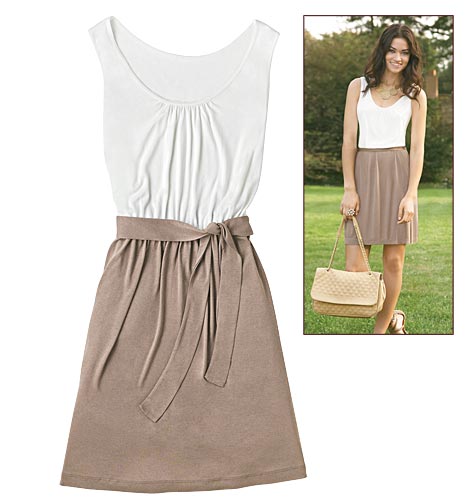 This mark The Nude Look Dress
is so versatile that you can dress it up or dress it down! Everyone should have women's wear that is this easy to accessorize! And plus how can you resist a dress this cute?? With a cute cardigan this dress will make you shine this Spring!
Check out these adorable Indigo by Clarks Cow Cove – Women's – Shoes – Bronze
are they not one of the cutest pair of shoes you've ever seen???
mark Leaflet Earrings
–I love, love, love, love the Mark Bring It On Earrings they'd make a great (and affordable) addition to this outfit as they are only$12.00!

mark Arm Candy Bag–
Two looks, one style (quilted with a chain strap)- how sweet it is! Beige with monochromatic stitching and gold chain strap, a very go-with-everything option, screams 50's charm! Goes wonderfully with this ensemble!
And to make you smell like Spring try mark Citrus Bloom Fragrance Mist
like a perfect spring day, drenched in sunshine and totally alive with possibilities! Notes of green mango, juicy mandarin and lemon ice capture your zest for life, while orange flower, honeysuckle and jasmine express an underlying floral flirtation!
What's your favorite Spring 2011 fashion trend?????