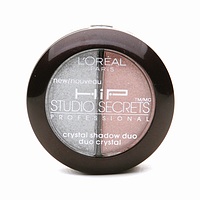 HIP High Intensity Pigments Shadow Duos are now HIP Studio Secrets Professional Shadow Duos.  These shadows feature a micro-pulverized formula that allows for even, intense color deposit for contouring and defining.
I received one of these new HIP Crystal Duos in "Romantic."  The shade on the left is more green in person, with a slight aqua tint.  The photo of the neutral side is very true to life.  I haven't tried any of the other four, but I've read reviews and it seems others have had the same experience – the new formula is a hot mess.  It flakes EVERYWHERE, and essentially no pigment stays on the lid.  Basically just a small amount of the glitter remains.
EXCEPT for the neutral side.  It has become a new staple in my makeup collection, and I've been using it just about every day.  For some reason, the formula of the neutral side seems to be completely different – it adheres well, provides rich pigmentation, and lasts a long time.  I LOVE it!  It's worth buying this duo just for the neutral shade, and I highly recommend doing so. Buy it from Drugstore.com!