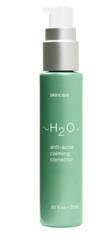 Turn To The Sea To See Results
An innovative daily multi-tasking serum and/or spot treatment, the new Anti-Acne Calming Corrector uses an exclusive complex of sea-derived Algin and Zinc Sulfate to reduce redness, absorb excess oil and diminishes surface shine while soothing irritated skin. And it doesn't stop there: gentle versions of Salicylic and Glycolic acids banish pore-clogging impurities while keeping new ones from breaking out.
H20 sent me their Anti-Acne Calming Corrector for review in the Spring.  Fortunately for me (but unfortunately for the review), my skin has been pretty calm since then.  I've had a few whiteheads, but didn't really find this to be the right product to treat them.
Last weekend, however, I woke up and my entire chin was hard.  I don't know what happened while I was sleeping, but there was a huge area that was about to erupt into massive acne.  Immediately, I knew I needed to start treating the problem before there was a full on breakout.  The product I reached for was H20's Anti-Acne Calming Corrector, which I promptly slathered on.
Combined with a anti-targeting mask, thorough washing, and frequent reapplication of the H20 serum, inflammation and redness was reduced by about 50% by that night.  So even though the issue wasn't completely gone, it had become significantly reduced, rather than developing into a larger issue.  Three days later, the redness and swelling is unnoticeable (except to me, when I scrutinize it in a magnifying mirror).  This type of problem normally would have taken me at least a week to handle, but with the help of H20's Calming Corrector, it's just about gone already.  I'm so happy, and glad I had this product on hand!
H20's Anti-Acne Calmning Corrector is available from Ulta, or online from H20 Plus.