Making people's lives better through the ultimate full-fashion shopping experience.
Fashion to Figure is a retailer that caters to fashionistas who wear sizes 12 to 26.  They have several locations in New York and New Jersey (I plan on visiting them during BlogHer!) and an online boutique.  In store, the staff includes FTF Stylists that help you peruse the racks, put outfits together, and even take care of companions who aren't interested in shopping (like a boyfriend or child).  Fashion to Figure is working to create a fun, exciting place to hang out a shop – one where limitations don't exist because of size.
Recently, I was given the opportunity to check out a piece from FTF's inventory.  Normally, selecting review items is pretty easy for me, but FTF had such a great inventory that it took me a good half hour or so to pick out a single item.  I was particularly attracted to the range of dresses, that featured a range of styles and cuts which I found very appealing.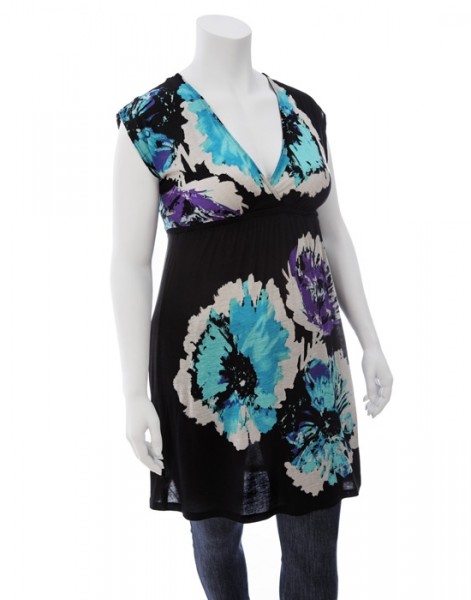 After much deliberation, I settled on the Watercolor Jersey Tunic, which features an empire waist (my favorite style).  It's described by FTF as "a tropics-tinged palette of aqua and lavender abstract hibiscus flowers pop against a black background on this wrap-front tunic," and retails for $34.
Honestly, I cannot put into words how much I love this dress.  And yes – it's described as a tunic, but it works perfectly as a light Spring dress.  It's SO comfortable, like wearing a long t-shirt.  Even in super hot weather, this dress is light as air and keeps me from overheating.  The pattern is gorgeous and the colors are even more vibrant in person.
The best part?  The style is incredibly flattering.  The light, body-skimming fabric covers problem areas and the v-neck definitely draws eyes upwards.  One person who saw me in it said immediately, "You look like you've lost a lot of weight!"  Ignoring the suggestion that I have a lot to lose, it was fabulous compliment and made me feel incredibly confident.  I wore it to a cocktail party over the weekend and got many compliments as well.
I highly, highly recommend both the Watercolor Jersey Tunic, and Fashion to Figure in general!  I can't wait to visit one of their stores in August!  Also, the site is frequently updated with new pieces, which makes it easy to stay on top of your wardrobe and accommodate the latest trends.