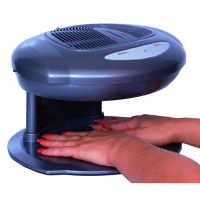 "In a world as busy as ours, who has the time to sit around waiting for our nails to dry while at the nail salon? With a spritz of nail hardener and a five minute session of the hand dryer – we're out the door, freshly manicured without a care in the world.
Until, a dermatologist enlightens us that the hand dryers we once relied on can actually be as dangerous as a tanning bed?
Surprisingly, the very popular "express" drying method that nail salons and spas are using dries nails quickly by capitalizing on UV (ultraviolet) rays.  You have heard many, many times how dangerous exposing yourself without protection to UV rays can be.  Studies back this claim up and now researchers are linking the UV nail driers to the rise in the number of cases of skin cancer on the fingers.
Unless the manicurist plans on lathering your hands with SPF during that hand massage, Dr. Schultz recommends you to steer clear: "reports of unusual numbers of skin cancers on the fingers of frequent users are compelling reasons to avoid them until controlled peer review studies can demonstrate safe parameters for their use (if they even exist). So the next time you're provided with the UV drying option, like when it comes to tanning beds, just say no.""
For more info about skincare safety, visit Dr. Schultz's Derm TV!