Want the perfect French pedicure for feet this summer, but need it to last more than 2-days?  Kiss offers EverLasting French Toe Nails that look natural and last for up to 7-days, chip-free!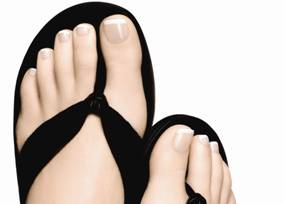 New Technology
The bonded layers in the manufacturing process of this new nail create the most durable French nail ever, that won't chip – guaranteed.  The white tips of previous French nails often chipped within 3-4 days of excessive wear and tear.  But the new plastic tip is now made with white molding, instead of air-brushing, so chipping is impossible.
Fit
The thinner material of EverLasting French Nails makes them more flexible over the natural nail bed to provide greater comfort.  Available in Flat and Regular nail arcs in 12 sizes for hands, the new thinner plastic makes for the most comfortable, durable fitting nail on the market today.

Look
Not those 80's nails!  According to national sales statistics, the classic French look is the most popular design for artificial nail wearers.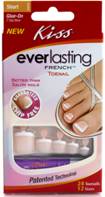 Price: $5.99
The Everlasting French Toe Nail Kits contain: 24 Nails in 12 sizes, 2g Glue, Mini-File, and a Manicure Stick
For a twist on the classic French, try new Kiss Catwalk Toenails in a silver flower French style inspired by the New York Fashion Shows.  An easy fix for the winter pedicure blues!   The toenails come with tabs to make application easier.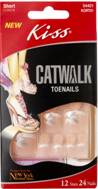 The Catwalk Toenail Kits contain: 24 Nails in 12 sizes, 2g Glue and a Manicure Stick
The Kiss Toe Nail Kits are available at all major drug stores nationwide, plus online via Beauty Online Supply.
—  I did not write the information above.  I have used Kiss products and absolutely love them! —