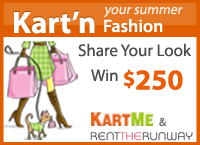 Ready for some real summer fun?
The Fashionable Gal has teamed up with KartMe to give one lucky gal a $250 to Rent the Runway!
Rent the Runway, which launched in November 2009, is the hottest new way to rent designer dresses and accessories.  Since rentals start at only $50, $250 is enough for a whole summer of style!  Since their launch, the site has gained over 400,000 members and garnered attention from the Today Show, New york Times, US Weekly, and more.  Rent the Runway gives you the opportunity to rent items that most of us can't afford to buy, from designers like Christian Siriano, Badgley Mishka, Nicole Miller, Diane von Furstenberg, Vena Cava, and many more!  Similar to sample sale sites, it's members only – but through this special promotion, we're also giving you the opportunity to jump the line and get straight in (more info below).
This is just like the "rent-a-bag" service Carrie's assistant in Sex & the City introduces her to.  Summer is the perfect time to partake in the service, as I'm sure plenty of you ladies have weddings or big parties to attend – and fabulous impressions to make!  Running out and emptying your bank account isn't an option – but renting totally is (and no one knows to know you didn't buy it!).  Click here to join Rent the Runway.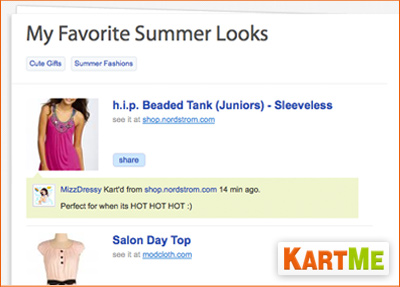 So, now, what's KartMe? Well, KartMe is a wonder tool for anyone who likes to stay organized.  The site allows you to create online lists, which they call "karts" – which you keep in one spot.  This will totally cut out your need to cut'n'paste, email yourself, or keep endless notepad files (like me!).  Members of KartMe to share clothing finds, shoes, beauty tips, home accessories, wedding ideas, and anything else you can possibly put into a list.  These "karts" can either be kept private, or shared with friends and family.  So, you can totally make a list of all those shoes you want to splurge on – and ask friends which pair should be the ones you go for!
KartMe is different from other online organizers because it helps you take action.  Their technology automatically seeks out deals, put maps on your phone, helps you debate with friends, and suggests new lists.  They make it easy to collect items from any website with their "klipper," which automatically grabs links, pictures, maps, and more.
Like Rent the Runway, KartMe launched late in 2009.  Since then, over 12,000 favorites have been "Kart'd" in 2,000 lists!  KartMe also won a "Staff Pick" from the Apple store for their app (available here) – and they have a site for Droid & Blackberry users as well (located here).  The mobile app comes in handy when you want to take a list on the go, like to a hairdresser or on a shopping trip.
For even more info about KartMe, check out their "About" page!
CONTEST INFO:  One lucky gal will win $250 issued in credit to Rent the Runway.  This contest will run until July 7, 2010, 11:59 PM EST.  You must complete the Mandatory Entry before any extra entries are counted.  Please leave a separate comment for each extra entry.
MANDATORY ENTRY: Share a Kart of your Favorite Summer Looks here in 7 quick & easy steps:
1. Find and copy a link to a dress or fashion item (e.g.,
http://shop.nordstrom.com/S/3078253/
)
2. Start a Kart here:Â 
Your Favorite Summer Looks
3. Select "Paste link" and paste your fashion link
4. Click "Submit"
5. Click "Publish Kart!"
6. Join KartMe (it's free!)
7. Copy the URL to your Kart and paste in your comment below to enter!
EXTRA ENTRIES:
Join Rent the Runway – 1 Entry
Follow @KartMe on Twitter – 1 Entry
Follow @FashionableGal on Twitter – 1 Entry
"Like" KartMe on Facebook – 1 Entry
"Like" The Fashionable Gal on Facebook – 1 Entry
Blog about this giveaway & include a link to this giveaway AND your "kart" – 5 Entries
Tweet using the text below – 1 Entry/Tweet, Max 2/Day (2+ hours apart)
I'm saving favorites to life organizer @kartme. Hoping I win some of the $1,000! http://kartme.com/summer (details http://wp.me/pbj1u-1WB)