This is a Sponsored Post written by me on behalf of Freschetta. All opinions are 100% mine.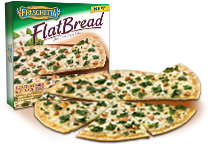 One of life's simple pleasures is a girl's night in with a few girlfriends, great food, and a fun movie.  Ordering in can be expensive and cooking can be tedious – so you're pretty much left with what's in your freezer.  And if you're like me…  That's certainly not going to be a crowd please (unless everyone wants turkey meatballs and Popsicles).
Recently I found out about Freschetta FlatBread.  I haven't gotten to try it yet, but it's available in four flavors:  Zesty Italian, Roasted Garlic & Spinach, Pepperoni, and 5-Cheese.  They all sound good to me but I think the one I'm most interested in picking up is Roasted Garlic & Spinach – I'm obsessed with anything spinach, and as an added benefit, it's great for me!
So what makes Freschetta Flatbread stand out from other frozen pizzas?  For one, the tomato sauce is made from real, ripe tomatoes that are flash frozen to preserve maximum freshness.   The cheeses topping that sauce are all natural, and the dough is naturally rising (and has been kneaded and rolled ahead of time).  The dough also is made of spring wheat, which is a healthier option.  Also, the crust is thin and crispy – far less calories than normal or deep dish crust.
After typing that all out, my mouth is watering.  And if yours is too – well, you're in luck!  Before you head to the store, print this coupon for $1 off Freschetta Flatbread!  You can also "like" them on Facebook or follow them on Twitter for more news and deals.