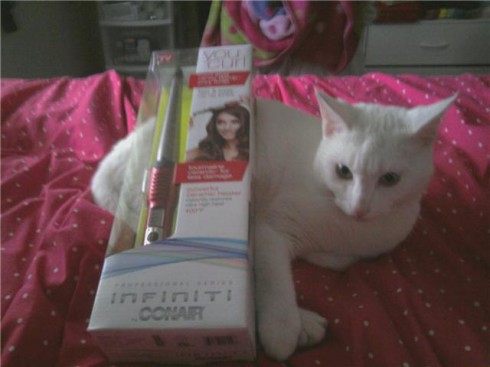 This is Frank.  Frank gets mad when he sees bad hair.
"Is your curling iron 'clamping' your style?  Sometimes you just gotta loose!  Soft, sexy curls are now easy to create with the new Infiniti by Conair You Curl.  The You Curl has a unique, clamp-free design and a cone-shaped barrel that creates a softer, less structured curl.  Simply wrap hair around the barrel, hold for a few seconds and then release.  The conical design allows the curls to start closer to the root, allowing more volume through the middle (larger portion of the barrel) and the bottom will have a tighter curl (small section of the barrel).  The effect is  trendy, free-flowing spirals with no 'clamp kinks.'
The powerful ceramic heater features Tourmaline Ceramic technology which provides more protection, reduces frizz, helps eliminate static and does not have damaging hot spots.  The ultra-high heat levels are instantly restored during use, and the 5 LED settings provide the ideal temperature for all hair types.  The stay-cool safety tip protects fingers during use."
Sometimes, you don't realize how poorly your appliances are functioning until you try a new one.  For instance, I thought my blow dryer was doing just fine until I tried my roommate's.  I might as well have been letting the cat blow on my hair, for all the good my blow dryer's been doing.  The point is, even if you think your curling iron is doing just fine…  Chances are that Conair You Curl will blow your mind.
I love the no-clamp feature, and the whole new shape of the barrel.  Conair sent me a You Curl to check out and I'm really impressed with the new features.  It makes much more sense to have a wide base and then a more slender barrel to make naturally shaped curls.  It also gives you the option to wrap hair around one size only, if there's a width of curl you prefer.  It's slender and compact, so the Curl You won't take up much counter space.  Plus, I like the red handle!
The Infinite by Conair You Curl is available nationwide, at mass market and drug stores.  It's also available online from Conair.  The retail value is $49.99 – and one lucky gal is going to win a Curl You of her own!
Contest Info:  Contest runs until June 23, 2010, 11:59 PM EST.  Giveaway is open to US Residents.  You must complete the Mandatory Entry before all extra entries will be counted.  Please leave a separate comment for each entry.
Mandatory Entry:Â  Tell me why you'd like to try the Infiniti by Conair You Curl!
Extra Entries:
Fan Conair on Facebook – 1 Entry
Fan The Fashionable Gal on Facebook – 1 Entry
Follow Conair on Twitter – 1 Entry
Follow The Fashionable Gal on Twitter – 1 Entry
Subscribe to my newsletter – 1 Entry
Blog this Giveaway (leave a direct link) – 3 Entries
Add me to your Blog Roll – 3 Entries
Share anywhere else (i.e. Stumble, Digg) – 1 Entry per Location
Tweet using the following text – 1 Entry per Tweet, Max 2/Day (2 hours apart minimum)
#Win the new You Curl curling iron (ARV $49.99) from @conair_hair & @fashionablegal http://wp.me/pbj1u-1Si